Anouncements
The Lunch Bunch with CONSUMERS ENERGY Thurs. March 5
Posted February 25, 2015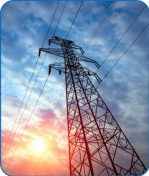 WHO: Chris Thelen, Area Manager, Consumers Energy WHAT: Meeting Michigan's Future Energy Needs WHEN: Thursday, March 5 from 11:30-1pm WHERE: The Chamber office (220 S. Bridge St.) New and changing federal regulations on air quality and carbon emissions will change Michigan's energy landscape in the next two to five years. A total of nine coal plants will shut down in the state by 2016 due to air quality rules. Even more plant retirements are expected by 2020 as the Environmental Protection Agency's Clean Power Plan begins to take affect. Estimates predict the Lower Peninsula of Michigan will be up to 3,000 megawatts short of the power our homes and businesses need. That's a loss of enough power to serve 2.1 million homes - a city three times the size of Detroit. Unfortunately, our current energy policy isn't equipped for the changes and challenges that are rapidly coming our way. Learn what Michigan must do to make sure we have affordable, reliable energy for our homes and businesses well into the future.
Lucille Olson Combo Big Band & Beyond Concert - March 8
Posted February 26, 2015

The Lucille Olson Combo will present a concert of 'Big Band and Beyond' music on Sunday, March 8 at 3 p.m. at the Grand Ledge Opera House, 121 S. Bridge Street. Dancers are welcome to swing and sway on an adjoining dance floor. Tickets are $8.00 presale at the Opera House, MacDowell's Hearth & Floral and True Value Hardware. Tickets at the door are $10. Information is available at 517-627-1443 or 517-627-8594.
St. Patrick's Day Celebration March 13 & 14
Posted February 15, 2015

Friday, March 13th. The Opera House-6:00pm features Irish entertainment including: Glen Erin Pipe and Drum band, Irish Dancers and Live music with "The Pub Runners" Irish music and story telling band. $5 admission. Food and beverages for sale. Saturday, March 14th. Parade downtown-2:00pm. Register for the parade by clicking the link below. Bagpipers, floats & free candy followed by an afternoon and evening at the Opera House with the Goodrich bagpipe and drum band, Irish dancing, various live musical acts, including "The Lash" Irish band from Grand Rapids, taking center stage at 5:30pm. Free admission-Open seating. Food and beverages for sale. Irish Stew cook-off at the American Legion hall from 11am-4pm. Join the downtown pub crawl throughout the day and evening with various specials at your favorite restaurants and taverns.
View Link