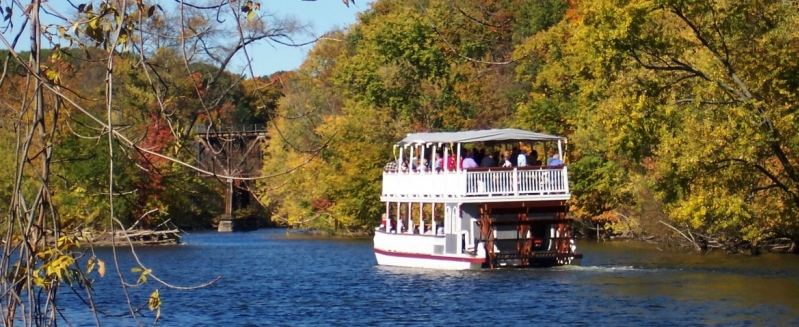 Photo courtesy of William Gibbons
This year's Color Cruise and Island Festival is being held in memory of Marilyn Smith (1933 - 2016).
The annual event celebrates with an unmatched combination of nature's glories and mid-Michigan good times in October. The towering hardwood trees compete to see which can most beautifully reflect its colors on the river.
Volunteers Needed
This event is not possible without a lot of volunteers (Sell Entrance Admissions, Pumpkin Painting, Candle Dipping, Caramel Corn, Traffic Control, Shuttle, Setup, and Clean Up).
Sign up today!
Exhibitors Needed
We need more vendors/displayers with old steam engines, tractors, pumps, weavers, old musket guns, and long bows. If you are interested, please contact Karla Chamberlain at
miriverboat@aol.com
.
beautiful riverboat
rock climbers
voyageurs, fur traders, and wood carvers
folk music and cloggers
baby photo contest
bunnies, sheep, and llamas
paint a pumpkin or dip a candle
old fashioned cider press
traveling blacksmith, Native American display and crafts, lamp work beads, wooden puzzles
spinning and carding, quilting, portraitures
log cabin building and railroad safety display
NEW THIS YEAR: beekeeping
food: chili, hot dogs, steak and cheese sandwiches, brats, freshly popped black kettle caramel corn, elephant ears, fresh lemonade, and root beer floats
Friday is special for seniors
Grand Ledge Opera House: diamond dig
Grand Ledge Area Historical Society's Museum: narrated boat cruise and nature walk on the ledges
Capitol City Car Club: vintage vehicle display
Grand Ledge Area Historical Society: Oakwood Cemetery walk
Abrams Municipal Airport: airplane rides
Grand Ledge cloaks itself in finery so vivid and exciting in October that one would think there was a party. We invite you to come!
Sponsored by:
Grand Ledge Chamber of Commerce
All In Gold Sponsor: MSU Federal Credit Union
All In Silver Sponsor: Doty Agency / Auto-Owners Insurance
Captain John's Galley | The Log Jam | Voya Financial Advisors
---
One of the Chamber's goals is to promote local community events that will take place within the Grand Ledge Public School (GLPS) District or that are sponsored by a local business or organization that is housed within the school district. If your event qualifies, please provide us with your event information. As soon as our calendar editor reviews and approves your event, it will become active in the calendar.
---

Chamber's Mission
The Chamber is organized for the purpose of advancing the economic, industrial, professional, educational, cultural, and civic welfare of the Grand Ledge area. To encourage the growth of existing industries and business while giving all proper assistance to any new firms or individuals seeking to locate in the Grand Ledge area. To support all those activities believed to be beneficial to the community and area; to oppose those which might be detrimental. To promote the welfare of all area citizens, following always those policies intended to accomplish the greatest good for the greatest number. And in general to take any action and engage in any activity in connection with and incident to said purpose not forbidden by the laws of the State of Michigan and with all powers conferred upon corporations of this type by the laws of the State of Michigan.

Proceeds from all Chamber events are allocated to promoting the Grand Ledge community and its members.