Saturday, October 7, 2023
Jaycee Park, Island Park, and River Street
FREE and OPEN to the Public
9:00 AM - 5:00 PM
There will be crafters and vendors (including pottery, wood work, candles, handmade craft items, and businesses doing outreach) around three different parks along with free pumpkins for kids, a fall photo booth, pony rides, a petting zoo, food trucks, and we even have some re-enactors and demonstrators of live art.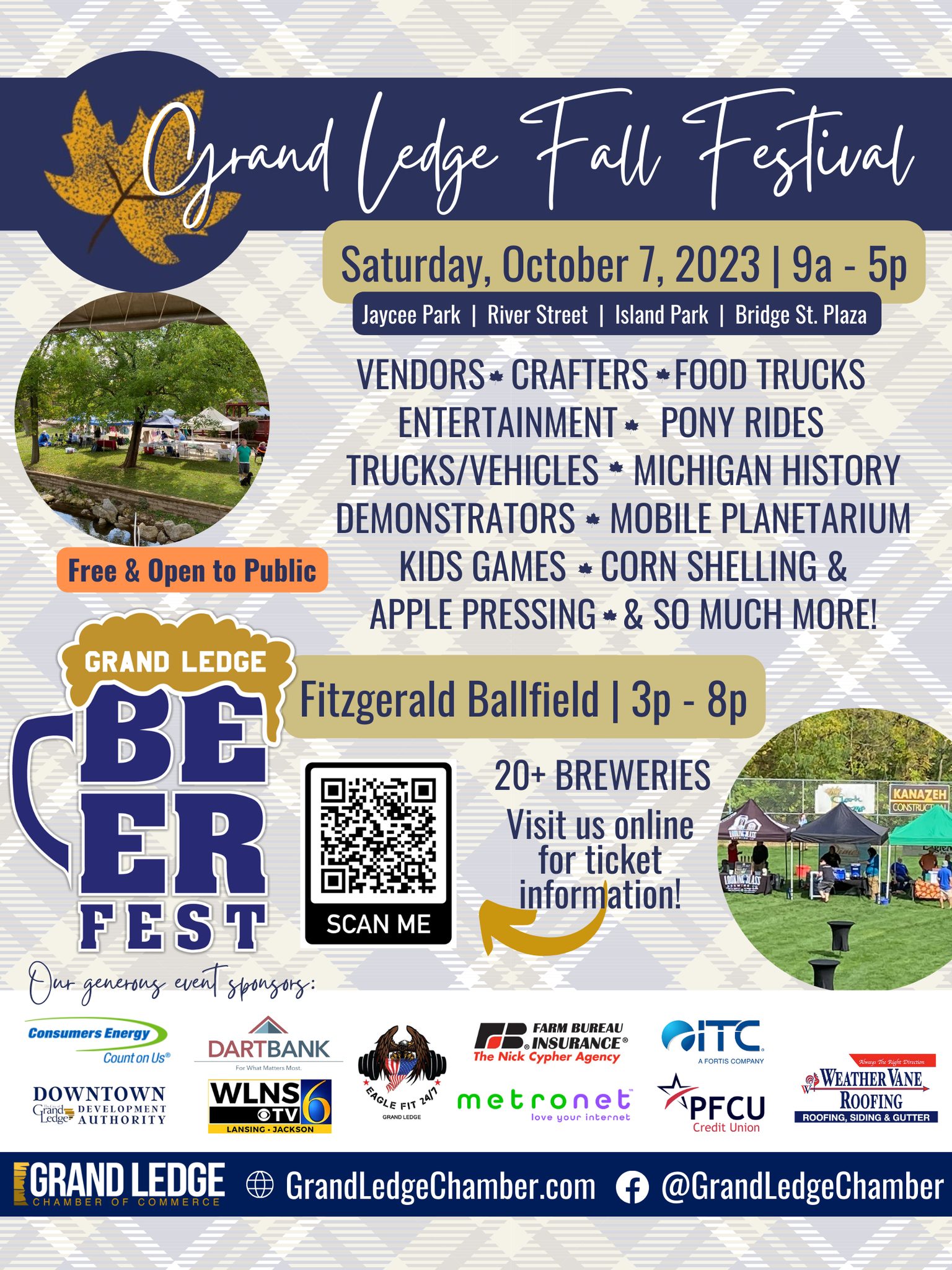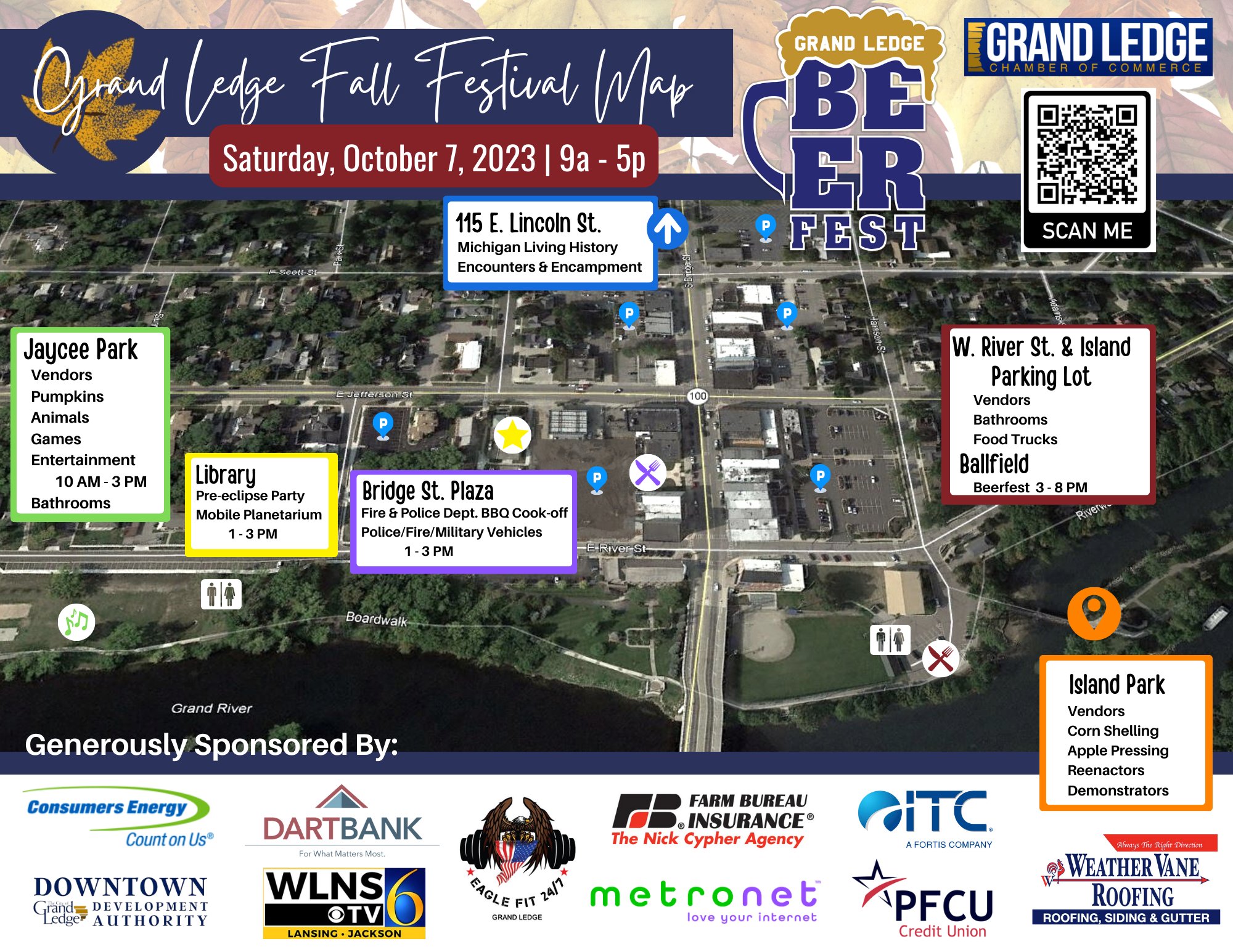 If you have any questions, please email Amy at amy@grandledgechamber.com.
The Grand Ledge Beer Fest will be held on the Saturday, October 7 from 3:00 - 8:00 PM.
4Ubyhand
Advancing Renewable Energy Inc
All That Glitters Glass and Crystals
Angelica Gamez Realtor Keller Williams Realty
Ann's Ponchos
Apple Pressing
Bath Works of Michigan
Blackbird Farm & Co.
Bloomin Creations
Blue Horse Cookies
Brooke's Jewelry Shop
Candles Fighting Cancer
Cindi Luci's Crochet
Circles of Fun
City of Grand Ledge
Civil War Reenactors
Claddagh Coffee Roasters
Consumers Credit Union
Corn Shelling
Country Lane Crafts
Countrytime Pony Rides
Crafter
Crafty Creations
Crazy Good Nuts (and/or Wallace Scones)
Crown & Stone
Dart Bank
Debut Author
Dollysdoodads
DRM Art GL
Enchainments
Endless Etching
Fashionably Safe
Feeders & Cedar
Flicker Candle Company
Fluff n Stuff
Frame Quilter Demonstration
Go Play Explore
Good Girls Custom Crafts
Grand Ledge Masons
Haywards Handmade
Howard's Homemade
Huhn Strawberry Farm
Irish Line Woodworks
Jen's Joy of $5 Jewels
JRose Designs MI
Liberty Church
Macaron Momma, LLC
Martin Family Creations
MetroNet
Michigan Beer Drinker
Michigan Great Lakes Virtual Academy
Michigan Hammock
Mid-Michigan Inter Agency Foster Care Coalition
Modern Magic
Moon Fawn Co.
Moore Amour Crafty Creations
Moose Creek Crafts
Nanni and Mews Crafts
Needmore Strange Produce/Pumpkins
Nerdy Otter Designs
NextHome Reality
Nothing But Knots
Pack 645/657 Cub Scouts
Pam's Pantry
Pat Yirsa
Paw City Pet Care
Pumpkin Eye Designs
Purple Pendulum
Queen Bee Apiary
R and R Ranch
Ray Creates
Restrumed
Robins Crochet
Saint Esthetics & Permanent Jewelry
Sak Saum
Scentsy
Senior CommUnity Care of Michigan PACE
Simply Magic Designs
Smash Knack
Stacks BBQ
Studio 205
Tap House Bo LLC
Taquira El Azteca Taco Truck
Tastefully Simple
Terra Solyra
The Bee and the Lotus
The Creative Coop
The Goddess Realm
The Stuffy Co
The Wild Weim
Thomas' Natural Roots
TT's Creations
Triple E's Food Truck
Uncultured Enterprises
Val's Embroider-eeZ
Weathervane
Wild Side Snacks
WLNS
Worden's Auto Detailing
XOXO LALA

Other activities around town:
**Michigan History Encampment on Lincoln Street
**Grand Ledge Police Department and Grand Ledge Area Fire Dept. Annual BBQ Cookoff in Bridge Street Plaza
**Grand Ledge Area District Library Mobile Planetarium and Pre-eclipse Party
**Masonic Temple Craft Show
**GLFUMC Village Crafters
**Police, Fire and Military Vehicles