Music in the Park
June 7 - August 30, 2018
Bring your friends and a lawn chair or blanket.
There will be food concessions available onsite.
Visit
GrandLedgeMusic.com
for full details
June 7th - Tell Yo Mama
June 14th - Root Doctor
June 21st - Soulstice (Yankee Doodle Days)
June 28th - The Invasion
July 5th - GL Bums
July 12th - Delilah DeWylde
July 19th - The Frog King (Neil Diamond Tribute)
July 26th - The Aimcriers
August 2nd - Sea Cruisers
August 9th - Hidden Agenda
August 16th - Kari Holmes
August 23rd - Red Herring
August 30th - Global Village
---
Highlights from 2017: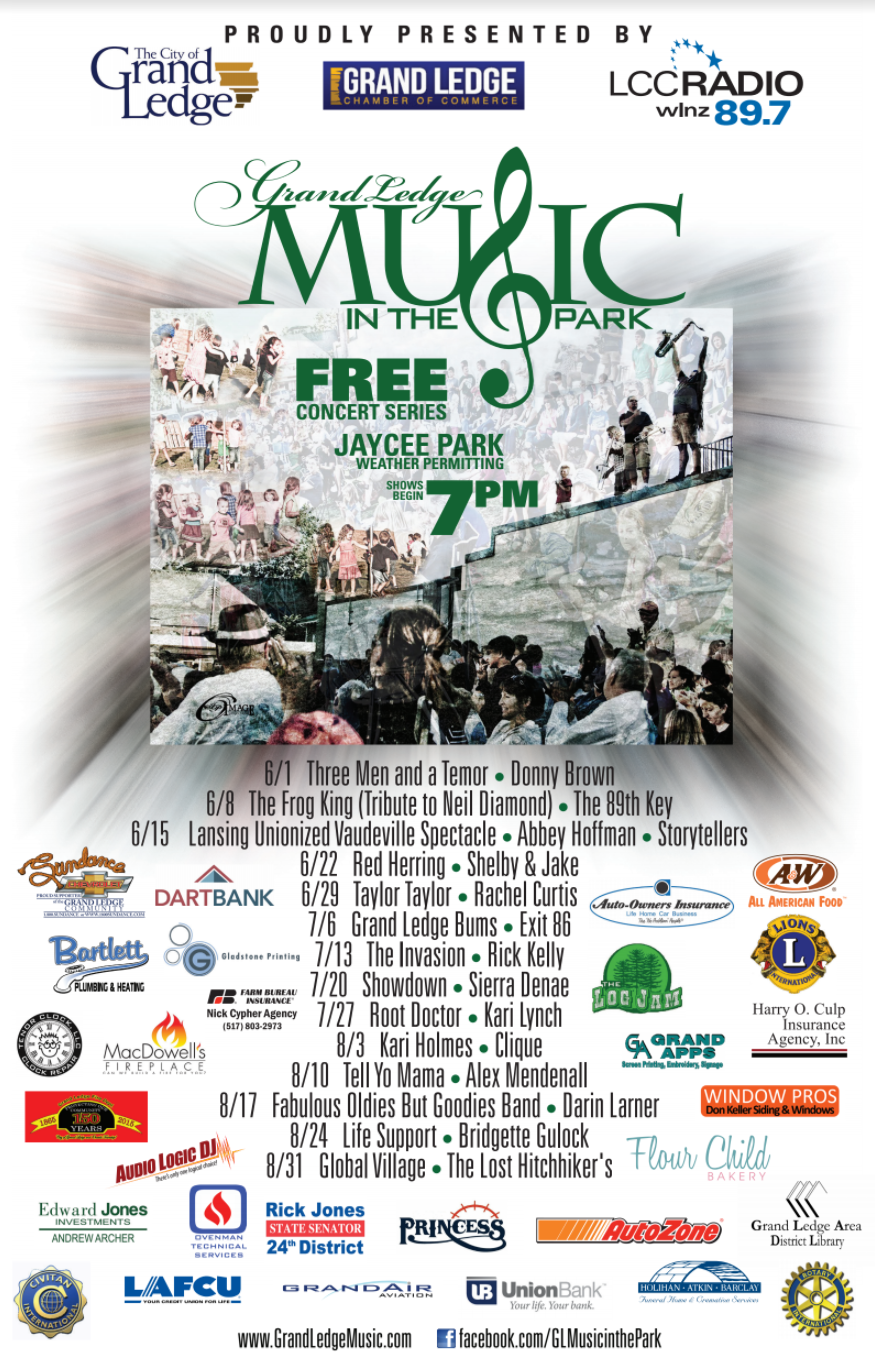 ---

Every Thursday all summer long we will be collecting food for the Grand Ledge Food Bank, so please bring your donations to Music in the Park
Protein Foods
Canned tuna, beef stew, ham, chicken, and macaroni and cheese
Breakfast Foods
Cereal, jelly, syrup, granola bars, and small boxed raisins
Pantry Items
Salad dressing, condiments, flour, sugar, and pasta
Toiletries
Shampoo, soap, toilet paper, and paper towels
Money
Cash, checks made out to 'GL Food Bank' or 'Grand Ledge Emergency Assistance Program (GLEAP)' and gift cards to local restaurants

The Grand Ledge Community continues to show that they are caring neighbors. A small group came together after retired Grand Ledge Police Officer Mark Sleep suggested promoting a food and toiletries collection for the Grand Ledge Food Bank. They are calling it, "Rock the Food Bank" with your donations.
?Chris Richardson-Beagle has volunteered to be the chairperson of this event. GLEAP is on board in hopes to raise awareness and funding for their own nonprofit organization.

Every Thursday during June through August, when the "Music in the Park Summer ?Concert Series" is performing will be collecting donations. Music begins at 7:00 PM. Donations are welcomed for the Grand Ledge Food Bank and also for GLEAP (Grand Ledge Emergency Assistance Program). They have worked together for many years in helping those in need in our community. Please write your donation check specific to your designated nonprofit organization.
Proudly sponsored by Caring Neighbor Foundation?. Any questions, please contact Chris Richardson-Beagle, chairperson, at 517.983.2444.